Man of Matchsticks!!!
Yes. He is an Artist and makes beautiful and massive creations with matchsticks.
Who can ever can think of Art with matchsticks???
Let's Know about Him.
Matchstick Man's Story
He is Man of Matchsticks – Debasish Chatterjee from a village in south 24 Pargana, Kolkata, India, born in 1976 to a poor family.
He is a Man of Few Words and his paintings and art creations speaks all. He has dedicated his life to art since 1995.
At the age of 6, he met with a train accident which has left him shattered with a lifetime effect, but as it is said, Where there is a Will, there is a Way.
He lost one of his legs but now his passion for art and creativity, keeps him surviving and growing in life.
He completed his Diploma in Painting at Birla Academy in 2000 and established as an artist. His creations have also found its place in the Exhibition art gallery of Kolkata.
He has created these magnificent artworks of Eiffel Tower, Charminar, Train, Etc, using matchsticks.
Matchstick Artworks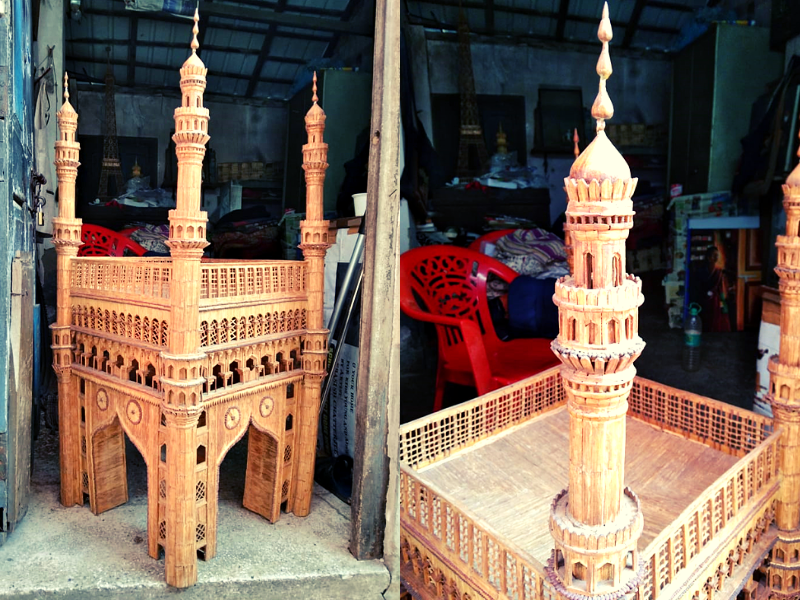 Around 86000 Matchsticks are usedto make this Model of Charminar. Size is 21″x 43″. Isn't it magnificent !!!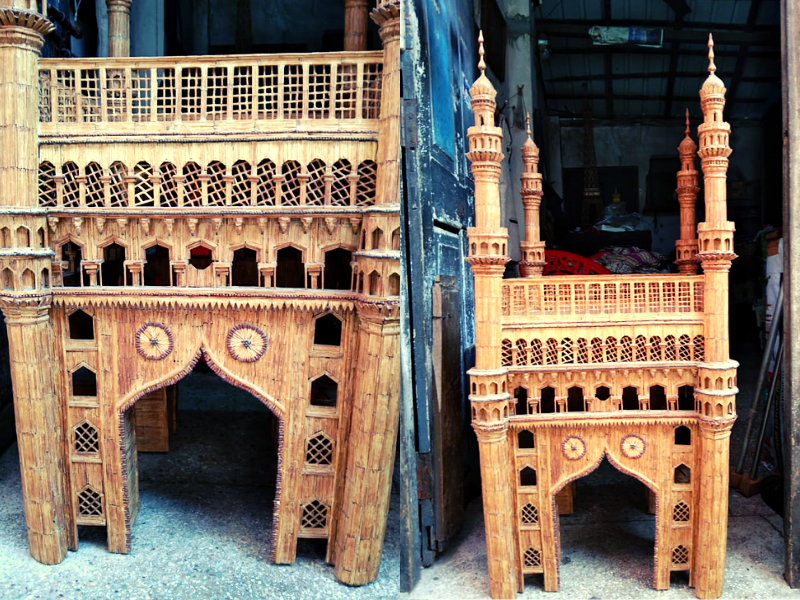 He now conducts art and painting classes in his locality. But due to this pandemic situation in 2020, he has lost his work and now just struggling to earn bread and butter.
"I have no one in family, after I lost my mother a few years back. Now I am just working to feed myself and this struggle is a big challenge for me. As I am physically challenged I did not get any job, but my passion and art helps me earn and live the life. I have always faced difficult situations throughout my life. My two best friends are the pillars of my life, who has always supported and motivated towards life. I am grateful to my friends who always have supported me mentally and financially". Debasish said.
More or less 56000 matchsticks are used to make this Eiffel Tower with matchsticks. This took him almost 1.5 years to complete,though he used to do this when he wanted to relax from his busy lifestyle. Size is 6'6″x 2'4″.
Around  12000 Matchsticks are used to make this tower.
"I am now working on creation of a train, but I am facing issues in storing these giant creations. I live in a small room in a slum and have no space to keep them, and that at times stops me to work. " He says disappointedly.

Some of his paintings uses water colours and acrylic colours. And the paintings often speak the artist's heart and mind.
You can Find Man of Matchsticks  – Debasish at Facebook. Do support art and artist, because an artist needs nothing but appreciation for his hard-work and creations.
Let's wish that he gets paid for his artworks and hardwork , so that he can earn his living.
Click Here To Know About Such Amazing Art and Artisan Stories