How much do you know about Indian handicraft Industry?  Get closer with these unique facts about Indian Handicrafts which will blow your mind.

Facts about Indian Handicrafts
1. Indian handicraft industry is a $100 billion industry worldwide. According to data by Statista India exported handicrafts worth over 128 billion Indian rupees in fiscal year 2019. This was an increase compared to the previous year where it stood at approximately 118 billion rupees. This indicated a growth of over nine per cent.
2. As per the census of handicrafts being conducted on the 11th plan the Total number of Handicrafts artisans in India are 68.86 Lakhs.
3. Indian handicraft industry provides huge employment opportunities to artisans that include women and people belonging to backward and weaker society. Handicraft sector is one of the major employment sector providing work for females in India. There are approx 38 lakhs women artisans working in the handicraft industry.
4. The emergence of the handicrafts sector, as one of the major sources of foreign exchange earnings for India, is evident from the data of exports of all India's handicrafts from India.
Image Source: www.statista.com
The UK, USA and UAE has the highest demand for Indian handicrafts
5. Blue Pottery, Bamboo products and Wood carvings have the highest demand in India and abroad.
6. The Indian Handicraft Industry is showing the continuous growth rate of 20% every year.
7. In this modern times we do Wedding photoshoots to capture the moment. In the Ramayan age in order to capture Lord Ram Sita Vivah ,King Janak (Sita's father) asked arists to paint the moment. And that art was started to be  called Mithila Painting or Madhubani painting.
8. Madhubani painting exhibitions on tree trunks helped fight deforestation in 2012. Women and girls of Bihar's Madhubani district found this way to fight the problem with art and saved hundreds of tress.



9. There is a Mithila Museum in Japan, which has over 850 Madhubani paintings. The museum conducts research and also works for the publicity of the paintings.
10. The exotic marble stone-craft of Agra has been passed on over six generations. Unbelievable!!!
11. The British Museum has around 1000 South Indian paintings.
12. In Rajasthan, a community called the Nat Bhats even uses the puppets or Kathputlis to spread awareness about the independence struggle and other social issues.
13. Warli art dates back to 2500 BC. Amazing!!!!
14. Indian textile & handicrafts industry is the largest employment generator after agriculture.
15. Rogan Painting is done by only one family in India and carried over three centuries.
16. A single Pattachitra painting can even take months to complete. Hats off, to such handwork and patience.
17. Kalamkari or the Hand painting is done totally in Natural dyes, using various flowers, seeds, cow dung and milk as a natural binder. Completely Eco-friendly!!!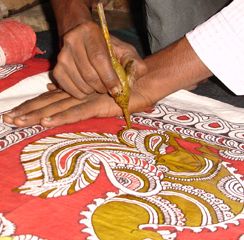 18. The great German Indologist Max Muller said: "If I were to look over the whole world to find out the country most richly endowed with all the wealth, power and beauty that nature can bestow – in some parts a very paradise on earth – I should point to India".
19. Mural art is still done with eco-friendly vegetable colours as it was done 3500 years ago!
20. Not only Hinduism, Islam, Jainism, Christianity, Sikhism, and many other religions have been exquisitely depicted in Tanjore paintings.
21. Every year more than 150 filigree artisans are engaged in making backdrop and ornament design of Goddess Durga in Puja pandals. And there is a competition to notch the best show every year among all puja committees in Cuttack, Odisha. Source: Wikipedia
22. As per Guinness Book World Records, the world's most expensive saree (Kancheepuram Silk Saree) was sold for  Rs 39,31,627 on 5th January 2008 made by Chennai Silks, India. Astonishing !!!!
23. The traditional artists of folk art-form Phad paintings are from the Joshi Family of Bhilwara.  It is a single family to keep this art alive for years  and the encouraged artists by teaching this mythical art form. Joshi Kala Kunj got established in 1960. The school which now has been renamed to Chitrashala teaches the Phad without compromising on the originality of the techniques of the art.
24. Jadupatua Painting is an artform where the theme of the art is death images and life after death. When someone dies in the villages of Santhal Tribe , then the Jadupatua artist visits them and analyses the death. And then on that basis the painting is done without pupil's in the eyes of the image. And only after the family pays offerings or 'daan' the artist performs the Chakshudaan or "bestowal of sight" by painting the iris in the blank eyes of the portrait in order to free the dead person's soul and send it to heaven.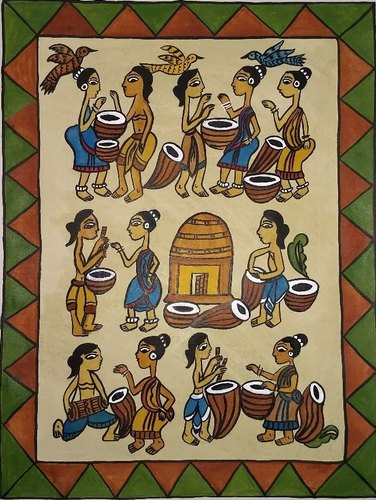 After reading this article, 24 Unique Facts about Indian Handicrafts, definitely you would have gained knowledge about the vast Indian handicraft magic, known some new facts, and be proud of being Indian. If you want to contribute to preserving and supporting the traditional art, you can quickly click on the share buttons. So, share this article to let the art spread and stay alive for generations to come. And also read other articles to know about the famous art and crafts of India.
Also read: Indian Handicraft Industry: Much more than what you can think of!
Also read: Famous Indian Handicrafts of every state of India