Rakshabandhan is a traditional festival in Hindu culture to celebrate the love and bond of the Brother-Sister relation.
On this day, sisters of all ages tie a talisman called the rakhi, around the wrists of their brothers. It symbolizes brothers protecting sisters and then receiving a gift in return. Here are some unique types of Rakhis to celebrate an Amazing Rakshabandhan this year.
This festival is celebrated on the full moon of the Hindu month of Shravana (Shravan Poornima), or around July and August. This year Rakshabandhan falls on August 30, 2023. Mark the date!!
A Piece of Thread Carries the Power Of Sister's Love.
Raksha Bandhan," in Sanskrit, literally means "the bond of protection, obligation, or care". It celebrates the bond of the brother and sister through all the times in their lives. Be it happy and sad times, laughing and crying together, fights, teases, care, protect and all those growing years of both.
The festival just follows the rule of a Brother-Sister relation. It can be celebrated even if they are not biologically related. Although it is a ritual in Hinduism but Jains, Sikhs, and everyone celebrate this will joy and togetherness.
Praying for brothers' health, well being and prosperity is done by sisters and the brothers do their duty towards their sister caring, supporting, respecting, and gifting them. As gifts are important in any celebration. (This post contains affiliate links. For more information visit the disclaimer page.)
Types of Rakhis – celebrate an Amazing Rakshabandhan
A Rakhi can just be a thread to fulfill the importance of the ritual but here are the types that will make your day special. There is a wide variety of Rakhis available around us.
Beads rakhi, Pearl rakhi, Gold rakhi, Silver rakhi, Mouli rakhi, Flower rakhi, cartoon rakhi for kids, Rakhi using God's motifs, gift hampers, etc but these types of rakhi listed below are very unique.
Food Miniature Rakhi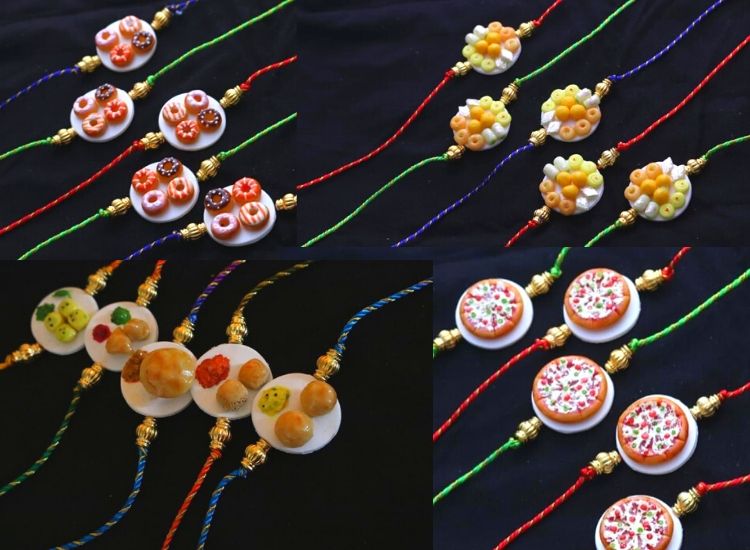 For all the foodie brothers out there this is going to be a great surprise and definitely they will love it. It can be customised according to the need.
They are made with air dry clay and are completely handmade. And after the celebration day is over it can be reused as a fridge magnet (attach a magnet at the back of the plate)or a key chain. Aren't they cute!!!
If you really want to have one like this check now.
Eco-Friendly Rakhi
As I always support eco-friendly habits, this one is my favourite. For this year rakhi try these plantable seed rakhi which are organic and 100% Biodegradable. They have seeds in it and after the use of rakhi the seeds can be planted at home, thus caring environment too. Making Traditions Green.
STOP USE & THROW. Its time to USE & GROW.
Folk Art Rakhi
If you are a folk art lover, then try this Folk Art Rakhi. The unique handmade rakhis are thoughtfully crafted using the Indian traditional folk art named Pichhwai. 
Eco-friendly Bamboo rakhi
These eco-friendly rakhis are made of bamboo. It's really crafty. You also support handicrafts and the crafters. You may also like other eco friendly items to start using to save to environment.
Personalised Rakhi
Personalised gifts make the moment more special. One can have the name written, a message from heart, funny messages, a picture of of brother carved on wood, etc. Take a moment and put in a little effort to customise and make a memorable celebration moment.
DIY Rakhi Making Kit
If you are a creative sister then you should definitely make your own rakhi for your bro. Handmade with love is always unique and will be scpecial fot the occasion. The brother-sister bond will get stronger.
Rudraksh Rakhi 
Traditionally rudraksh is considered to be divine and auspicios. So, why not include that in making the occasion auspicious.
Evil Eye 7 Chakra Energetic Healing Rakhi
7 CHAKRAS– crown, brow, throat, heart, solar, navel and root has spiritual significance  and evil eye rakhi with its significance of protection.
Crochet Rakhi
Crocheting is really a great art. Yarn and hook can create beauties. Small cute rakhis can be made. They are an awesome choice or kids and infants. As it will not hurt or harmful for kids. And for all those who do crochet they can create such cuties and gift them to their loved ones.
Quilling Rakhi
Handmade colourful quilling are a great way to make for your brother. Even kids will love them. Also know the reasons to gift or buy handmade products.
Teracotta Rakhi
Handcrafted in terracotta clay by professional artisans, these creative rakhis can be customised with the name of your siblings, or photo personalised. As they are made of clay, water contact and handling them should be done with care.
TIP : Many of the mentioned Rakhis can be used later as a Fridge Magnet. Attach a magnet and keep it as a memory.
Send an E-Rakhi
For all the sisters who have long distance brothers do not upset. It's not a time of disappointment, its time to send your love and message and celebrate the bond. So, send rakhi online or send an e-card. Make use of the digital now. Let us know which types of rakhi you liked.
Many wishes for the festival to all sisters and brothers.
Happy Rakshabandhan.
Note: The customised types of rakhi needs time to be made, hence don't wait for the last moment.